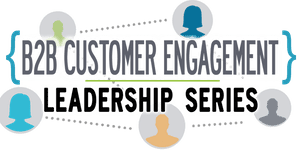 This summer, Influitive brought some of the brightest minds in customer engagement on the road to Atlanta and New York for our B2B Customer Engagement Leadership Series.
Below, we're sharing tips from a presentation by Jessica Cooper, Senior Manager of Global Customer Advocacy at Alfresco, about how companies can align people and process around the customer experience to inspire more customer advocacy.
Customer experience is the new demand generation. "You have to truly believe that. If you don't, you certainly will be left behind," says Jessica.
She's not the only one who believes it. Forrester Research found that 63% of customer experience decision makers say that a good experience is critical to their success. Gartner predicts that 50% of consumer product investments will be redirected to customer experience innovations by 2017.
Creating a delightful customer experience can do more than increase loyalty and retention among existing customers. It can also support new business acquisition. Jessica says earning your customers' trust and respect will turn them into vocal advocates for your brand, which will help generate referrals, recommendations and references to drive growth.
However, differentiating your brand means creating a customer advocacy program that is internally supported by every department. "You have to invest in it. It's not something that happens overnight. It's not something that happens organically."
Here's Jessica's formula for aligning your people and processes around new customer advocacy initiatives.
People: Find your internal advocates
New initiatives take time to implement, and gaining buy-in from both upper management as well as the day-to-day employees is imperative. "The more people you have on your side, the better off you'll be in the long run," says Jessica. Go to each department and find your internal advocates, including:
Product Management – The product management team is often eager to gain customer feedback and find beta testers for new products–which you can offer if you have a customer advocacy program in place.
Customer Success – It's the customer success team's job to build relationships your the client base. And as Jessica points out, your customer advocacy program "is an opportunity for them to engage with the customers in a non-transactional way." Show CS how your engagement initiatives can make customers feel like they're truly cared about, and they'll want to be involved.
Marketing – Teaming with the corporate marketing department can create opportunities for securing customer testimonials for campaigns, extending social reach, sourcing speakers for events, collaborating on content creation and much more.
Sales – Your sales team wants references and referrals. You can use your programs to diversify and expand your reference pool, and ask for introductions to prospects within your customers' networks. If you want to gain buy-in from the VP of Sales, tell him or her "We can add to your bottom line and your funnel, by creating more engagement and more leads," says Jessica.
Process: Set yourself up for success
Get everyone speaking the same language – Does everyone on your team know the difference between customer experience and customer advocacy? Can they differentiate between a customer advocate and a customer reference? Don't make any assumptions. Get everyone on the same page from the start and your process will flow much more smoothly.
Develop a mission statement – Outline the benefits to your company and your customers so everyone involved clearly understands their role and what they will get out of a customer advocacy program.
Establish advocate program goals – Be very transparent and share clear goals with all stakeholders in the program. For example, Alfresco's goals include building deeper relationships with their customers, building internal and external awareness for existing customer references & ambassadors, identifying new customer advocates and leveraging customers to increase market share.
Create advocate personas – Challenge yourself to figure out how to take your existing buyer personas and turn them into advocate personas. This will help you to identify the needs of your customer advocates. By segmenting your advocates, you'll be able to give them more relevant content, and boost overall engagement.
"Building an advocacy program is not akin to a 'set it and forget it' marketing automation program," says Jessica. Making every department consistently invest time in the program will help deepen your personal connection with your customers.
Once you have your people and processes in place, the only thing left to do is to align the technology you'll use to manage your customer advocacy efforts.
Put customer engagement at the center of your marketing
The B2B Marketer's Field Guide To Customer Engagement contains real-world examples of how customer marketers at fast-growing companies are focusing on customer engagement, including Rally Software, Clarizen, SMART Technologies and others.
The guide also features a wealth of insight on the value of customer engagement from leading industry analysts from SiriusDecisions, Constellation Research, the Temkin Group, KERN and more.
Related: Advocacy Marketing Dictionary – Customer Experience CX