This summer, Influitive brought some of the brightest minds in customer engagement on the road to Atlanta and New York for our B2B Customer Engagement Leadership Series.
Below, we're sharing key highlights from a presentation by Michael Beahm, Customer Advocate Marketing Manager at Blackbaud. Watch Michael's presentation to learn how he turbo-charged his company's referral program by learning what his customers truly craved.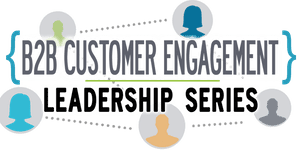 Two years ago, Michael had a decision to make when an opportunity to become Blackbaud's Customer Advocate Marketing Manager arose. At the time, it seemed like a lateral move for Michael, who had held a number of different roles within the company's marketing department.
But Blackbaud, which provides software and services for nonprofits, was undergoing a shift in thinking when it came to empowering customers. Michael's boss had laid the groundwork to implement a strong customer advocacy program. As Blackbaud moved more of its services to the cloud, Michael realized "customer engagement and marketing were becoming increasingly important."
So Michael jumped into his new role. His first order of business: turn a $13,000 a year referral program into $200,000. "We had to sign up for a number, because demand generation was the air that we breathed," says Michael. So he took a big gulp and got to work.
Activating Blackbaud's fans
How do you turn a program that's providing minor revenue and grow it 15X in one year? You have to change how you reach out to customers. Instead of looking at ways the customer can help your brand, you must first find ways to help them first.
Blackbaud's referral program was called The Blackbaud Fan Club. "As the name suggests, this program was all about us," says Michael. "It answered one question: How can our customers help us sell more?"
Customers that participated in the Fan Club received tickets to Blackbaud's annual customer conference or some Blackbaud schwag. But Michael knew that wasn't good enough. As one of his favorite strategists, Jay Baer, says "Activate your fans, don't just collect them like baseball cards."
Blackbaud needed a way to truly activate their fans by giving them something valuable.
So, Michael and his team changed the concept of the Fan Club into The Blackbaud Champions, which they launched in May 2014. Through the Champions program, Blackbaud interacted with their customers on a daily or weekly basis through fun competitions and helpful content and resources.
Picking the right rewards
Blackbaud also offered rewards geared towards their audience, like opportunities to speak at the annual conference or in a webinar. These rewards targeted the professional and business goals of their customer, making it a lot more enticing than, say, a hat.
Michael says he checks the The Hierarchy of Advocate Needs (created by Influitive) to come up with new offerings that might encourage a customer to participate.
"Having a variety of rewards that meet the needs of our advocates was extremely important," added Michael.
The results
In 2014, the success of the Champions program blew past the lofty $200,00 goal by 25%. For 2015, Michael and his team now have a target of $500,000 in referral pipeline and they're well on their way to meeting those expectations.
"Two-thirds of the buying process is done before anyone gets to us," says Michael when discussing the value of referral leads. "Additionally, buyers trust the experiences of their peers more than they trust marketers."
Sounds like the move to advocate marketing is paying off for Michael and Blackbaud.