This summer, Influitive brought some of the brightest minds in customer engagement on the road to Atlanta and New York for our B2B Customer Engagement Leadership Series.
Below, we're sharing key highlights from a presentation by Chris Fralic, Partner at First Round Capital, about how VC firms can drive the success of the entrepreneurs they work with—and their own at the same time.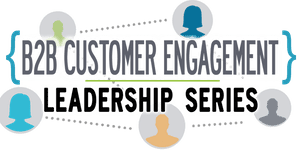 Most people wouldn't expect First Round Capital to have an advocate marketing program that encourages the companies they've invested in to refer their peers to the VC firm. After all, early-stage startups usually come to First Round Capital pleading for funding.
But that's not how Chris and the team at First Round Capital think. One of the company's mottos is: "Startups need money. Startups don't necessarily need our money."
This unique mindset has inspired First Round Capital to ensure the companies they work with have a great customer experience. To do so, First Round Capital delivers one of the most valuable tools at their disposal to these startups: their professional network.
The networking effect
A number of year ago, First Round Capital used Yahoo! Groups to connect every entrepreneur in their portfolio, welcoming them to ask questions and offer advice to each other. "At a typical venture company, you look at each business and there's one stakeholder that the entrepreneur deals with," says Chris. "But we've activated a community."
If one of the companies had a question about servers, they could get an answer from the community. Or if someone had a good life hack, one might find it posted in the group as well. It was a no-hassle, additional service First Round Capital offered that Chris says was "working reasonably well."
Things changed when Aaron Patzer, the creator of Mint.com, the personal finance management site now owned by Intuit, went on TC40 and won the startup Battlefield (the precursor to TechCrunch Disrupt). The next day, Mint.com got over 25,000 signups—the yearly goal for the service—which subsequently crashed its website. Patzer turned to First Round Capital's network. Another entrepreneur connected Patzer to someone who handled traffic issues during Facebook's rise, and the site was back up and running within hours instead of days. That's when First Round Capital knew they needed to build their own custom tool to keep their customers connected, says Chris.
Now, using their own platform (which Chris compares to a custom Quora forum), the firm has the creators of brands like Uber, Blue Apron and Square discussing issues that arise in their companies.
Crowdsourcing valuable startup resources
Realizing that startups wanted to learn from each other changed how the First Round Capital interacted with their portfolio. Instead of just feeding the entrepreneurs responses to questions, First Round Capital also gives their CEOs "weapons" to help their business, says Chris.
For example, using the network, they sent a survey to every company in their portfolio asking for every job title in the organization, along with salary and experience. Then they organized all of the information and sent the data back to the startups. Now, if an A-Series company wants to hire an engineer, they can look at the average pay for an engineer with the same experience at other A-Series companies.
A funnel of advocates drives new relationships
The network this isn't just a way to get more information in the hands of the companies that First Round Capital wants to succeed. It also creates an experience that entrepreneurs would recommend to others and try again themselves.
Chris said the VC firm meets about 3,000 companies each year, of which they may invest in 30. Of the 200-plus companies currently in their portfolio, 50% of the owners were recommended by a First Round Capital customer, or were an owner of another company that First Round Capital invested in.
"It proves we're activating our core advocates," says Chris.
By engaging their investors, providing valuable resources and facilitating peer-to-peer connections, the company is benefiting as well.