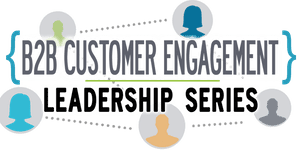 This summer, Influitive brought some of the brightest minds in customer engagement on the road to Atlanta and New York for our B2B Customer Engagement Leadership Series.
Below, we're sharing key highlights from a presentation by Megan Heuer, VP and Group Director at SiriusDecisions. Watch her presentation to learn about the connection between customer engagement and your company's growth (or lack thereof).
There's a silent killer in most company's sales pipeline. When conversion rates aren't up to par, what often happens is marketing blames sales and sales blames marketing.
However, the customer is often the forgotten missing link. "If your customers aren't happy and aren't saying good things about you to other people, what's that going to do to your pipeline?" asks Megan. "What's that going to do to conversion rates?"
Oftentimes, after a deal closes and the customer is onboarded, the "active ignoring" begins as sales and marketing move on to the next prospect. Then, when the chance to renew or upsell comes along, the customer won't buy because they feel like you haven't delivered on your promises, which negatively affects your pipeline.
Below, Megan shares five signs that your organization probably has a customer experience problem limiting your potential growth.
1. Your customer engagement program is underfunded
The 2015 SiriusDecisions State of Customer Advocacy and Engagement survey found that 83% of respondents said references are "critical" or "valuable" to the sales cycle. Yet, the majority allocate less than 10% of marketing program dollars toward building customer advocacy and engagement. And those numbers haven't budged since the survey was administered in 2013, despite increasing awareness about the importance of customer engagement and the growing number of tools available to manage it. At some point, Megan says brands need to put their money where their mouth is and shift their budgets.
2. Your buying cycle is misunderstood
Only 18% of the aforementioned survey respondents involved in customer experience said they know their buyers journey extremely well, and know all of the roles involved. Megan recommends everyone at your company to ask themselves, 'What can I bring to the table to help with what buyers need at different stages?' It's important for those involved in each step of the customer journey to help each other succeed, from demand-gen to marketing to customer service and every role in between. Make sure all teams are aligned around a clear process.
3. Your post-sale customer lifecycle lacks strategy
According to the 2014 SiriusDecisions State of B-to-B Customer Experience Study, 36% of B2B companies don't have a customer experience function. Of those with CX functions, more than half don't do experience mapping. Therefore, it's impossible to know what's even happening in the customer journey after the deal closes. Megan says your CX efforts need a strong, clear strategy first and foremost.
4. You have no customer advocacy efforts in place
Just 35% of B2B companies have a formal process to identify and recruit top customer advocates, according to the 2015 State of Customer Advocacy and Engagement study. If you're not actively engaging the customers that already love you and talk about you, you're missing out on a huge opportunity, says Megan. At the very least, she recommends publicly thanking your advocates. This will help to amplify their voice and make them want to advocate for you again—which is great for their personal brand and your business.
5. You don't distinguish between buyers and customers
Buyers and customers have different goals and needs. Buyers are trying to make purchasing decisions, while customers want long-term value. Each group has distinct objectives, needs and preferences. It would be a mistake to lump them both into the same customer experience framework together. Although the two journeys do at times intersect, they should be optimized independently, says Megan.
Customer experience doesn't have to be your organization's silent killer. Instead, you can make it your secret weapon. The fact that 71% of B2B decision drivers are based on direct or indirect customer experience (SiriusDecisions' 2015 B-to-B Buying Study) shows how important customer engagement is to an organization's growth.
It's time to invest more in your customer engagement strategy and its execution. "If you make your customer experience great, the demand generation problem takes care of itself," says Megan.
Put customer engagement at the center of your marketing
The B2B Marketer's Field Guide To Customer Engagement contains real-world examples of how customer marketers at fast-growing companies are focusing on customer engagement, including Rally Software, Clarizen, SMART Technologies and others.
The guide also features a wealth of insight on the value of customer engagement from leading industry analysts from SiriusDecisions, Constellation Research, the Temkin Group, KERN and more.